L'
Ermite Moderne
est le co-créateur du site
Voxmakers
.
Avant Voxmakers
Edit
Il a commencé les vidéo le 4 octobre 2010 sur Fantasme et strip-tease magique.
Le 8 novembre 2010 il lança l'émission Sous-France Culture sur Hatsune Miku contre René la Taupe sur Canal+ .
Le 15 décembre, il créé Voxmakers avec Thomas Cyrix.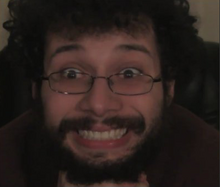 Après Voxmakers
Edit
Le 23 décembre 2011 il lança l'émission 4D-Au delà du pixel puis le 11 septembre 2012, il lança l'émission Flash Manga.
Le 11 février 2014, L'Ermite Moderne lance les chroniques WAKANIM et le 9 novembre 2014, il lança l'émission Pourquoi ça existe !?
Vidéos de L'Ermite Moderne
Edit
voir vidéos de L'Ermite Moderne
Description
Edit
Digne représentant de la culture manga, ardent défenseur de leur cause, il redore leur blason aux yeux de tous. Jamais à court d'arguments, adepte des discours. Vous saurez enfin pourquoi Dragon Ball super est super moche. Fidèle coéquipier de Cyrix lors de lives de l'extrême. Barbe et peignoir.
Coupez le wifi pour l'attirer hors de sa tanière.
Lien externe
Edit
L'Ermite Moderne sur Youtube
Ermite Moderne sur Facebook
Ermite Moderne sur Twitter
Ad blocker interference detected!
Wikia is a free-to-use site that makes money from advertising. We have a modified experience for viewers using ad blockers

Wikia is not accessible if you've made further modifications. Remove the custom ad blocker rule(s) and the page will load as expected.